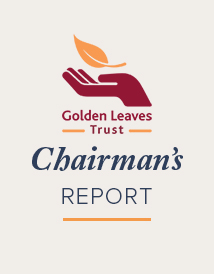 Arnold Pindar - Chairman
Annual Chairman's Report
The Golden Leaves board of trustees ensures that your money remains safe. We hold and manage the funds from paid for funeral plans to ensure that they are available whenever needed to pay for funerals. The Trust is totally independent of the company to ensure that whatever the fortunes of the company the funds remain solely for the purpose of fulfilling commitments to honour the Funeral Plans.
Although the Covid-19 pandemic had a serious effect on stock markets throughout the world with substantial falls registered in March 2020, the trustees for Golden Leaves Trust took immediate action to minimise losses and to ensure that a surplus of assets over liabilities is maintained to protect our funeral plans.
Funds are invested in equites, bonds and gilts. Our actuaries have confirmed to us that the funds have more than sustained the shock of the pandemic and that there continues to be a substantial surplus of assets over liabilities to protect Golden Leaves Funeral Plans. Indeed, our actuarial report shows that there are sufficient funds to cover all funerals should they occur on the same day.
We fully support the Government's regulation of funeral plan companies providing plan purchasers greater confidence across the whole industry that their plans will always be honoured. The regulation will come into force in July 2022 and we are currently making some technical changes to our operations to ensure that Golden Leaves Trusts are fully compliant with both the requirements and spirit of the regulations.
We are also pleased to report that all our investment managers are following our Environmental, Social and Governance (ESG) Policy. They are now integrating ESG criteria into their asset selection, applying these non-financial factors as part of their analysis process to identify material risks and growth opportunities. This is becoming increasingly important in determining financial success. More and more people are approaching Golden Leaves to plan their funeral service and pre-paying for it to ensure that they receive the funeral they want. The need for the fund holders to ensure the funds are available whenever needed to pay for funerals is of course vitally important. We, the Golden Leaves Trustees, are confident in the way we manage Golden Leaves funds to meet this requirement.
Arnold Pindar
Chair
Golden Leaves Trusts
16th February 2022